Beachwear
Every Anegada beachwear garment goes through a magical journey of production, being lovingly handcrafted and block printed by artisan communities in India. You can read more about how we're empowering our artisans on our sustainability page — otherwise, here you'll discover how each piece is made and what makes each dress truly unique.
Hand Block Printing
Our block printing is undertaken by small and ethical, family workshops in the traditional block printing village of Bagru, Rajasthan. It's a highly skilled craft, but is unfortunately dying out due to the mass production of clothing and growing ease of screen printing. We are working hard to keep this craft alive and showcase the true skills of our wonderful artisans. 
Designs are first traced onto blocks of teak wood, a sustainable hardwood tree native to India. The block is then oiled and sanded before being intricately carved down with a metal cutter, leaving the desired design as a stamp ready for printing.
Our organic cotton fabric, dyed in its base colour, is then rolled out flat on a table and pinned securely to reduce the risk of smudges or uneven printing.
Next, the wooden stamp is dipped in dye and with some force, is hand printed onto the fabric. The amount of pressure varies with each stamp and also from artisan to artisan, so dye take up may be more on one dress to another.
The process is repeated to achieve the desired design, so precision and steady hands are important for success of the technique. If the design has multiple of colours, they will be printed separately using washed or differing blocks.
Fabrics are washed and left to dry before being sewn and stitched into our differing styles. Due to this being such a manual process, variations and small dye splatters are inevitable — but we believe its what gives each garment its unique charm!
Sewing & Stitching
We have two ethical sewing workshops, one of which is involved in Project Thrive, an empowerment program for at risk women based around the slums in New Delhi. Training women in sewing, cutting, quality control and packing, the project aims to provide stable jobs, fair wages and additional benefits like flexible hours and funds for healthcare and further education. 
Accessories 
Our accessories are part of our handwoven craftsmanship series. Each bag, hat and fan is handwoven
 by the indigenous rural women of a historical town called Bolgatanga, in the northern part of Ghana, Africa. Weaving skills have been passed from one generation to another in the local communities of Bolgatanga.
The baskets are made from a tropical grass called ' vertiva grass" which grows in the wild. The plant produces a flower when it matures. It is the stalk of this flower that is harvested as the main raw material used in the weaving. As a natural product, waste generated from these baskets is environmentally friendly as it decomposes easily and regenerates soil fertility.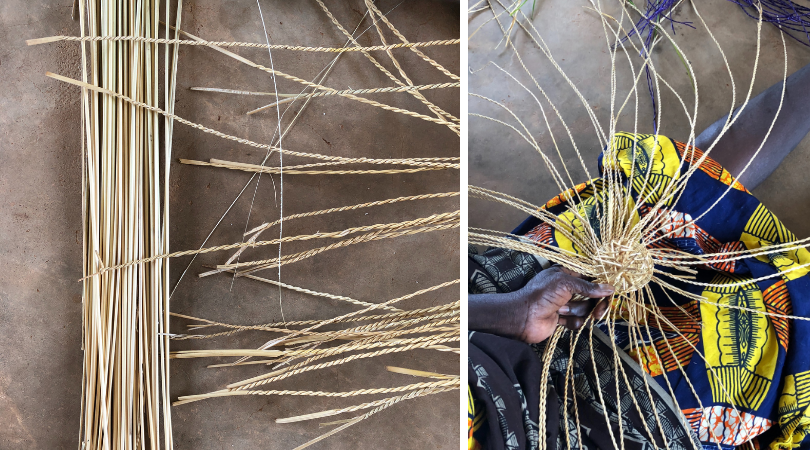 The bands around our hats aims to showcase another beautiful weaving craft, 'ikat' from Uzbekistan. Creating silk ikat fabric is labour-intensive and complicated. A distinctive characteristic that the threads are dyed long before the craftsman sets down at the weaving loom.
The entire process consists of more than 35 steps. Before dyeing, the master ties each strand to protect those areas that will not be dyed in a specific color. The strands are tied into bundles and lowered into the dye. The strands remain white in the areas where the tie was made. When the dyeing of the threads is complete, they are stretched on a loom and woven by hand. By colouring the threads in parts, the very pattern that is recognised all over the world gets created and takes on its 'cloud-like' form. 
It would be fantastic to see governments around the world following in the footsteps of Uzbekistan. Here, all artisans are freed from taxes and customs duties.
Since 2017, the centuries-old technology of making silk fabrics by the "ikat" method has been included in the UNESCO register of best practices for the preservation of intangible cultural heritage.